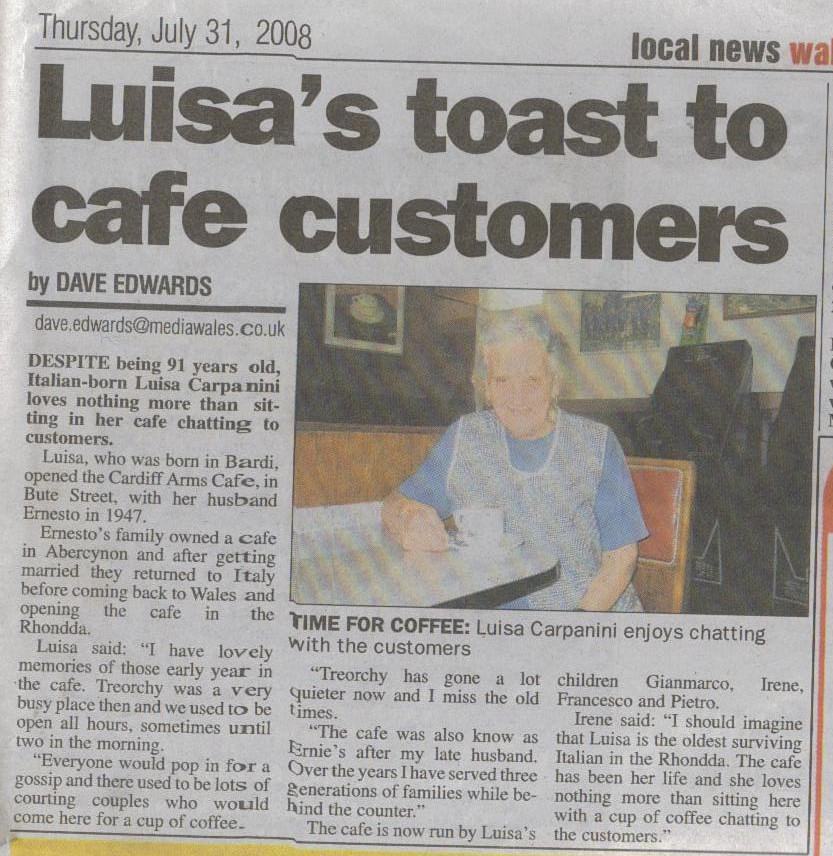 Article originally by Dave Edwards (walesonline.co.uk)
Dispite being 91 years old, Italian-born Luisa Carpanini loves nothing more than sitting in her cafe chatting to customers.
Luisa, who was born in Bardi, opened the Cardiff Arms Cafe, Bute Street, with her husband Ernesto in 1947.
Ernesto's family owned a cafe in Abercynon and after getting married they returned to Italy before coming back to Wales and opening the cafe in the Rhondda.
Luisa said "I have lovely memories of those early years in the cafe. Treorchy was a very busy place then and we used to be open all hours, sometimes until two in the morning.
"Everyone would pop in for a gossip and there used to be lots of courting couples who would come here for a cup of coffee.
"Treorchy has gone a lot quieter now and I miss the old times
"The cafe was also known as Ernie's after my late husband. Over the years I have served three generations of families while behind the counter."
The cafe is now run by Luisa's children Gianmarco, Irene, Francesco and Pietro.
Irene said "I should imagine that Luisa is the oldest surviving Italian in the Rhondda. The cafe has been her life and she loves nothing more than sitting here with a cup of coffe chatting to the customers."