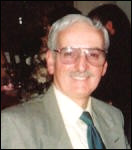 Born in 1937, Aldo spent most of his life serving the people of Rhondda in Bacchetta's Restaurant and delicattessen in Porth.
In the 1950's he served, with twin brother Mario, in Berlin with the Royal Welsh Fusiliers.
Returning to Wales, he continued in the family business and became involved in many activities outside the shop.
He joined Players Anonymous, performing in many of their productions.
His interest in local history led him to co-publish books on old Rhondda.
He was a keen and active member of the Amici Val Ceno Galles and Trustee of the Vision Foundation.
A member of the Cwmbach Male Voice Choir, he performed with them in Bardi, on their visit there last year.
More recently, even when struggling with his illness, he was a founder member of the newly formed Arandora Star Memorial fund for Wales.
Throughout his life he maintained a strong love for his family and for his church, where he was chairman of the Parish Advisory Council.
For some years Aldo and I gave talks across South Wales on the Italian connection and we also worked together in helping arrange the Choir's visit to Italy.
In all our activities he was positive and enthusiastic to the end.
Along with the rest of the Amici Val Ceno Galles committee – I can only say – "Aldo, thanks for the memories!".